8 Comments
Forever Papers: Reducing The Clutter of Your Kids' Papers - Evolved Mommy
By Holly Shacklett
Everything my child touches is gold…
Kids bring home gazillions amounts of papers from everywhere don't they?  And each one your child touches seems like gold. I know, it really does.  But it's not.  Unlike gold, if you keep every single picture your child drew, painted, or touched it would become less valuable.  Why?  Because it suddenly becomes a space hog.
Mom's Burden
I had a friend from College call me recently because she needed help.  Her Mom saved everything she'd created for "her" to keep.  And now that my friend is over 30 she has boxes of "crap" her Mom saved.  Does that sound like boxes full of treasures?  Not at all, these boxes of "gold" her Mom saved had become a big burden to my friend.
Let it go!
Now, before my friend even told me the details of what she was having a hard time getting rid of, I told her if she didn't love something don't keep it.  If she preferred the space it was taking up over the actual "thing" to not keep it.  I told her if she was keeping something out of guilt or obligation, get rid of it.
In the end, she kept a few things that really were treasures to her and tossed the rest.  And you know what?  She felt better.  And not just a little.
I tell you this story so you can remember the flip side of saving your kid's "treasured" art and papers.  So, here is what I propose you do with your treasured kid's papers.
The Solution
Step 1: Buy a container
You could purchase this extra large file tote box.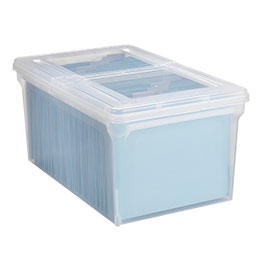 Each child gets ONE of these. I said ONE because you are not going to keep every single paper your child writes or draws on. You are going to keep only a few precious pieces. If you keep all of them, nothing becomes special; it all becomes an overwhelming mess.
Step 2: Fill with Folders & Label Them
You will first fill the tote box with at least 12 hanging file folders. But you may want to insert 18 – one for every year your child is under your roof and creating.
If your child is 2 you will label a file folder "2 years old" or you could start with "Preschool" or "KDO".
Step 3: Actively Store
Then you will file the special papers your child creates that whole year into that folder. Once your child enters school, label the file folders by grade or by year.   Place items in here you deem special.  Each time I put a piece of paper into a file folder, I double check that I still value what is in the folder.  In the summer, make a point of sorting through the files again.  But this time go through it with your child.  Let your child also decide what is valuable to her.
Photo Tip:

This is also a GREAT place to store extra school pictures! Keep them in the envelope they came in and file them in the correct year's folder. Next year order less so you have less to store!
Important:
I have seen similar boxes on sale at all the office stores I have one near me.  Make sure you get the biggest one with the grooves inside for hanging files.
You'll need to choose a place to store it.  I store this storage bin under my children's beds.
Another tip:
If your bin is getting full quickly, trim down the papers. You are keeping entirely too many. Remember this box is "extra large".
In conclusion, I suggest you pick up a wide, shallow clear storage bin with a lid for the larger pieces of artwork you want to save, after culling of course.  Enjoy saving your kids' true treasures!
I have enjoyed sharing my back-to-school ideas with you at evolvedmommy and I hope I've helped Stephanie's readers make life a little more simple!  

– Holly
Holly Shacklett
is the mother of 2 girls ages 5 and less 1 year.  Holly earned her degree in Elementary Education, traveled the United States with her musical husband, and has worked in various types of office settings.  Holly actually gets a little giddy at the completion of an organizing project because she simply loves it.
Holly, you have been an amazing guest on evolvedmommy.com. Thanks for all of your tips!

Show Holly some love by visiting and commenting on her blog or "liking" the Facebook page for Simply Organized.

– Stephanie